Energy-saving Briquetting Machine is a new kind of eco-friendly and energy-saving equipments, it greatly reduce the waste of coal resources,and is a new type of eco-friendly productions. Energy-saving briquetting machine is widely used for pressing mold of pulverized coal, mineral powder, coke powder and metallurgical powder in building materials, cement, mining industry. This machine can save energy and protect the environment and the final products are convenient to be transported, thus improving the utilization of the waste materials and have excellent economic and social benefits.
1. improved that hanging gear into the gear box, and increases the drive torque production, the price much lower than double output shaft forms gradually popularized in the country.
2. open drive way, that is, the motor directly to launch several files open gear drive is limited to a small implement or very low volume applications in the domestic market is currently phasing out.
3. the motor launch accelerator, accelerator low-speed output shaft driven through the coupling pressure roller shaft of the large gear operation, namely, suspension gear in the form. Such transmission mode is generally taken most of the pressure the ball machine manufacturer, due to its simple structure, less costly, is widely used.
4. the motor launch hardened accelerator, the accelerator low-speed output of the dual-axis parallel to the pressure roller driven by a gear coupling to run, take spiral feed to promote and exhaust for powder molding. Such a transmission mode, stable operation, long life gear drive torque, the roll surface line pressure up to 100KN, generally used in metallurgy, refractory enterprises of powder forming a pellet production line pressure roller. Insufficient, since few large production of stand-alone open up Save Energy Good Stability Sponge Iron Briquetting Machine/Energy Saving Powdered Carbon Briquetting Machinemodels.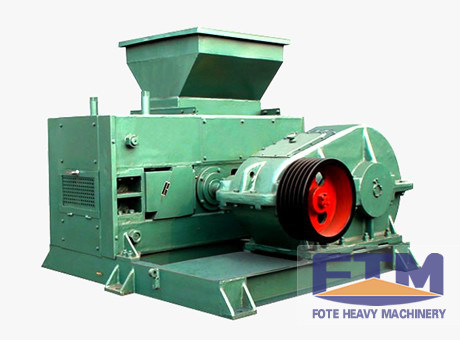 As a professional briquette making machinery manufacturer in China, Henan Fote Heavy Machinery Co., Ltd. absorbs the advanced management method of domestic and overseas positively, carry out the systemize construction strongly, do their best to meet customer's needs, and try to build the top-grade employees' team. Our company mainly supply briquette machine, briquetting plant, charcoal briquette production line, hydraulic briquetting press machines and other briquette makers. Welcome to visit and purchase.
Contact Information
Website: www.ftm-mac.com/pt31.html